| | | |
| --- | --- | --- |
| | Click Button to order your copy of "How to Run a Marathon" | |
How to run a marathon even if you've never run a step in your life before
Dear aspiring marathon runner
Did you know that a high percentage of people that enter marathons don't finish? For example, in the 2012 London Marathon, out of 50,200 places awarded, only 36,705 finished. That means that for whatever reason, 13,495 people didn't achieve their goal of running a marathon. That's 27% – more than a quarter – of entrants did not get their medal. The majority of these people that didn't finish didn't even make it to the start line. But it doesn't have to be like this.
Picture the scene: You arrive on race-day, calm, relaxed and ready for your marathon. You're confident in the knowledge that your training has prepared you to breeze this race, your nutrition and hydration are sorted, your kit is comfortable and its all there ready to serve you. Your day is organised and your race strategy is mapped out mile by mile. You've even visualised yourself successfully crossing the finish line. So now all you need to do is follow your pre-prepared simple plan and your medal is in the bag.
Now picture the scene at the end of your marathon. You sprint across the line with energy to spare. You have a huge smile on your face. You've not only finished your marathon, you've easily achieved your target time and you've even enjoyed it. You collect your medal and bask in the glory of your achievement.
Let me introduce myself. My name is Nick Mitchell, and I run marathons all the time.
My first marathon was the London Marathon back in 1999 and my wife Leigh was at the finishing line to greet me. Leigh says: "He breezed across the finishing line as if he'd just jogged a few paces!". My secret? Well, I was well prepared for my race in every way and you can be too because I'll tell you exactly how I did it.

"He breezed across the finishing line of his first marathon as if he'd just jogged a few paces!"

People are often impressed when they find out the races I take part in but it's really not that hard if you get yourself organised by following a plan.
I've been running marathons for years and I achieve my goals because I've got a proven system that I use and it works every time.


A Proven System that Works Every Time…

Now I want to let YOU into the secret so you can follow my plan and you too can breeze across that finishing line wearing a huge smile. I've painstakingly logged advice, insider tips and secrets so you can benefit from my experience. Over the years I've learned what to do, and what not to do and now you can fast-track to experience.
Many people ask me for tips, advice and help in training for their first marathon, or to improve their performance. As I can't help everyone individually I decided to put down on paper the methods, tips and insider knowledge that I have gained over the years. The result is the comprehensive manual "How to Run a Marathon".

Everything you Need to Know…

In the manual I take you through everything you need to know in order to run your marathon successfully. I lead you through what's important, and give you detailed schedules for training so you'll be ready for your big day. This manual is packed with tips, secrets and advice from someone who's been there, travelled up the steep learning curve and made the mistakes, so you don't have to!
"Well MK Marathon for me has been and done. All the training from 2nd Jan comes down to today's race. I am pleased to say, I finished my race ahead of my target time of 5h30m. My finish time is 5h19mins – I'm so pleased with that…Thanks to Nick Mitchell for a great Marathon plan, it clearly worked."
Franco Iannotta, Milton Keynes
Wow, thanks Nick I would never have got round without your help!
Dan Black, Eastbourne
You'll discover exactly what you need to do to prepare, how to train, how to avoid pitfalls and problems, along with detailed training schedules suitable if you're a beginner, or if you've run before and want to improve your time.
I don't have space here to detail everything that's in this comprehensive manual, there's so much packed in there it would take too long to list everything. For example, there are seven pages of information devoted just to choosing your kit. I give you the low-down on what you need. For example, you don't need to spend a fortune on special kit, but there is one thing you must invest in and that is a good pair of running shoes. The manual has seven tips just relating to shoes including:
How to make sure you get suitable shoes for the way you run (this is important to make sure you don't cause yourself discomfort or even injury)
How to get a third off the price of your running shoes
How to avoid black toe nails – this is a mistake that many new runners make, and even experienced runners often get this wrong, but the solution is simple. I tell you how to avoid this unsightly and painful problem.
How to avoid blisters – everyone thinks of blisters when they think about what its like to run a marathon, but you can easily avoid the discomfort of blisters. I tell you how.
What time of day its best to buy running shoes – yes there is a real reason why I include a tip on what time of day is best to buy your shoes.
The manual is packed with useful, practical information, such as:
How to avoid chafing and runner's nipple (have you ever seen a runner with a blood-stained shirt-front? That's probably down to runner's nipple, where clothing chafes, causing this sore and bleeding consequence. I give you simple, sure-fire ways to avoid this happening to you)
For women, how to protect your breasts from damage and runner's droop
You will find help and advice on warming up, cooling down and stretching, how to pick your routes for training runs, where to run, what you need to know about different running surfaces, as well as everything you would expect such as:
Nutrition – what you need to know about carbohydrates, protein, fats
Injuries – treatment, and importantly, how to prevent strain and injuries from happening

You Can Choose Which
Detailed Training Schedule to Follow…

You get a choice of training schedules to suit where your starting point is and what your goals are. These detailed schedules include a get-you-round training schedule for the complete beginner, plus sub 4hrs30mins and sub 4hr schedules for improving your time.
The schedules have traffic-light colour coding, with green, amber and red workouts to help you plan your training. These schedules come with detailed notes so you always know where you are, what you're doing, and what comes next.
Watch what Mark Gillett has to say after his first ever half-marathon.
Mark Gillett, Milton Keynes


You Need Never Make These Big Mistakes…

Have you heard of 'hitting the wall' sometimes known as 'the bonk' or 'blowing up'? This is where an athlete runs out of energy, and inevitably cannot carry on. This is a big mistake that many new runners make (and even experienced runners can easily get this wrong) and unfortunately it often means that the race is over for them. This is surprisingly common, and I'm sad when I see it happening during a race. In the manual I give you nutrition tips, take you through how the body uses food for fuel, and provide you with a three-pronged defence system to show you how to never run out of energy.
Another big mistake that runners often make is under or over hydration – you need to know how much water to drink, and when. Getting it wrong can stop you finishing your race. Get it badly wrong and it can be dangerous, even deadly. But don't worry, in the manual I take you through simple measures so you can make sure you never run out of water, and don't over-hydrate.
Help, Tips and Advice on Aspects You May Not Even Have Thought About…

Help, Tips and Advice on Aspects You May Not Even Have Thought About…

There is information in here that you may not even have thought about, such as how to synchronise your stride and breathing pattern for the best results whilst running. There's also a section on how to stay safe when out training.
I include a section on pre-race preparations. Here I give you detailed instructions on how to arrive for your race on race day calm, relaxed, comfortable and confident.
There is everything you need in this manual for a trouble-free race-day – I take you through race-day so nothing is left to chance. I've even included a detailed list of what to take in your kit bag, and how to organise your bags so you have everything you need, at your finger-tips just when you need it.


Race Day is Sewn-Up…

Included in the manual is important advice for the race itself. I've included tips for how to avoid pitfalls on the day that I see many people falling into. And there is important advice for how to avoid the biggest mistake that I see countless beginners making on race day.
I see this mistake being made over and over again, by beginners, and even experienced runners. These runners do not finish, or seriously mess up their finish times by making this fundamental mistake. Find out what the mistake is, and how you can easily avoid it.
I tell you how to avoid making this and other mistakes, and how to sail through your race-day and breeze across that finishing line to collect your medal.
Nothing is Left to Chance, Even Post-Race is Neatly Packaged For You…

Nothing is Left to Chance, Even Post-Race is Neatly Packaged For You…

In the manual I even tell you what to do after the race, both immediately and in the days following to ensure you recover well. I'm enthusiastic about running, and I want you to be too. I want you to enjoy the experience of your marathon!
I just wanted to say thank-you…For your endless pieces of advice, help & support over the last few weeks. It definitely helped me to get through those miles yesterday.
Sunita, Milton Keynes
To make this an even sweeter deal, and remove that last bit of doubt that you might be feeling, I'm including four top notch products for you as bonuses with this package. However, these extra bonuses will only be offered for a very limited time.
So, if you order today, you'll receive all of these additional free bonuses (valued at £79.87) in addition to the Main Manual: How to Run a Marathon

Main Manual: How to Run a Marathon
Free Bonus 1: Training Diary
This training diary is a sheet you can print out and set out your week's training ahead of time, and then record your actual training, and comments so you can keep track of where you are, and how you're doing. This normally sells for £10, but I'm including it here for you for free.
Free Bonus 2: How to Make Running Up (And Down!) Hills a Cinch
A special mini-manual by Nick Mitchell that shows you tips and techniques for running up hills that will improve your speed and reserve your energy. There is also practical help for how to run down hills safely and fast. This mini-manual usually sells for £29.97 but you get it free with this deal.
Free Bonus 3: Race Pace Calculator
This handy little tool is for calculating the pace you need to run at throughout the marathon to achieve your target time. For example, if you want to complete your marathon in 4hrs 30minutes, you type in 4 hrs 30 mins into the tool and it will give you your target pace – in this instance, 10 minutes 18 seconds per mile. This tool has a £19.95 value.
Free Bonus 4: Mile Times Calculator
This great tool maps out the actual time you expect to be at each mile along the route of your marathon. For example, you feed in your start time, say 09:45, and your expected pace of say 8mins per mile. You can also allow a number of minutes for getting across the line (if the race has many entrants, there might be a delay from the race start time, to when you actually cross the start-line). The tool then calculates the time you can expect to be at each mile. In this example, if you started at 09:45, and allowed 10 minutes to get across the start line, with a pace of 8 minutes per mile, you would be at mile 10 at 11:15. That means you'll be able to check your progress, and your friends and family that are supporting you will have a guide as to where you'll be when on the plan, so they can look out for you, and cheer you on as you pass by! This tool has a £19.95 value.

So, I expect you're wondering how much is this package going to cost? Well, normally the How to Run a Marathon Program would have a price of £47.00, and so, together with the bonus package of the four items with a total value of £79.87, the whole package is worth £126.87.
However, I wanted to make this program affordable for everyone, and a wise investment to enable you to master running marathons for now and for any future races you might want to participate in.
For that reason, I'm offering this entire package, the How to Run a Marathon ebook, in addition to the free bonuses valued at £79.87, for only £39.95 total for the entire package. This is a 1-Time payment only… you will never be billed again.
Order now through our secure server and you can instantly download the printable PDF format E-book package for just £39.95 and start reading. Instead of waiting for your book in the mail, you can download this e-book package immediately and get started on your training in just minutes from now!
You can choose to read the program on your computer, or print it out to read anytime, anywhere.
Don't delay, because the FREE bonus package valued at £79.87 will only be available for a limited time.
To order "How to Run a Marathon" downloadable e-book package, and receive this cutting edge program along with £79.87 worth of FREE bonuses, click the order button to go to our secure payment page.

All of the Risk is on Me!

Alright, I want to take any doubts or indecision you might have at this point, out of your head. Seriously, if just one of the tips in this manual is the one thing that means you finish your race successfully, instead of sitting with your head in your hands on the roadside, waiting to be picked up by a first-aid team,then the price of the manual will have been worth it, wouldn't it?!
Why not make the decision TODAY to finally learn an exact proven method of success to eat, train, and THINK that will actually allow you to enjoy your training, your race-day, and your life!
I want you to realise that you have nothing to lose and can only gain from all the information, tips and advice contained in this manual. That's why I've decided to offer you a NO-RISK, 100% unconditional money back guarantee!
You have a full 8 weeks to review the program and see the benefits for yourself as you work towards your marathon race-day. If you are not satisfied with the information, your money will be immediately refunded. It's that simple.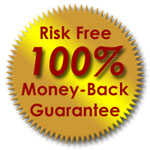 You might ask why I am foolish enough to offer a money back guarantee. Well, basically I am assuming that you are a trustworthy individual that would not try to take advantage of me, and not return the manual unless you were legitimately dissatisfied. However, I am so confident in these programs that I know you'll be satisfied once you see the results that you can achieve.
That's my promise to you! I'm genuinely keen to help you achieve your running goals.
To order "How to Run a Marathon" downloadable e-book package, and receive this cutting edge program along with £79.87 worth of FREE bonuses, click the order button below to go to our secure payment page.

Warmest Regards
Nick Mitchell
Ironman athlete, author, coach
P.S. Don't end up one of the thousands of runners who do not finish their race. With a little guidance and preparation you can enjoy your race-day, and triumphantly come across the line to collect your medal. Order your copy of How to Run a Marathon now and you can look forward to achieving your running goals.